Spearheaded by Nicholas Crouch, Natural Perspectives is a South Australian business producing documentaries and learning resources.
With expertise not only in multimedia, but also in biodiversity, ecology and sustainability, we specialise in environmental and natural history documentaries, together with innovative learning resources on various platforms.
Our passion is telling stories that inspire a conservation ethic in our audience.
Many of our projects also involve a large written component such as brochures, newsletters and books. For these specialties we collaborate with Environmental Writes, another South Australian business with an appreciation for the natural world.
Our Philosophy
We have a love for wild places and a desire to encourage a healthy environment for the whole planet. To this end, we are strongly committed to environmental sustainability in all its facets. As a member of Film-makers For Conservation we walk the talk:
we aim for minimum disturbance when on location in sensitive areas
animal welfare is important to us and we will not cause the harm of any wildlife, either directly or indirectly
our office is located in an energy efficient strawbale building constructed with recycled timbers. It is powered by solar photovoltaics, with excess power going back to the grid, collects rainwater and recycles wastewater
we source goods and services locally
where carbon emissions cannot be avoided, such as car travel, we offset this through biodiverse revegetation with provenance species using the Trees For Life Carbon program
we employ sustainable waste management practices, including a cradle to cradle philosophy
we engage triple bottom line accounting
Nicholas Crouch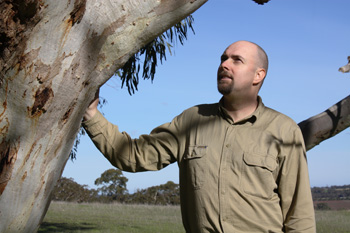 Nicholas was fortunate enough to grow up along Adelaide's coastline, where he developed his love of the natural world. His first job in the environmental industry was as a research assistant, spending most of his days lying in a paddock counting weed seeds. Not long after, he pursued a 16 year career as an educator with TAFESA teaching Conservation and Environmental Management in remote Aboriginal communities, regional centres and in Adelaide. One of his duties involved the development and facilitation of online learning materials.
For many years, Nicholas has had a keen interest in natural history documentary production, with a particular bent towards wildlife cinematography. He believes that effective environmental communication can change the world.
With his wife Mel, Nicholas enjoys getting out into nature (camping, bushwalking, kite surfing, etc) and loves growing his own food. They also find time to volunteer for several community organisations, including the Tennyson Dunes Group, where Nicholas spent his childhood, and the Friends of Patawalonga Creek, where they first met.
Nicholas holds a Bachelor of Natural Resource Management with Honours and a Bachelor of Ecotourism, and is close to completing his Graduate Diploma in Education and a Masters in Natural History Film Making.